Get your sword sharpened and pour yourself a glass of honeyed wine because winter is finally here. In honor of the season seven premiere for "Game of Thrones," we're taking a look back at HBO's innovative marketing campaigns. Whether you are team Cersei or bow to the King of the North, here are our favorite "Game of Thrones" marketing lessons.
1. Print isn't dead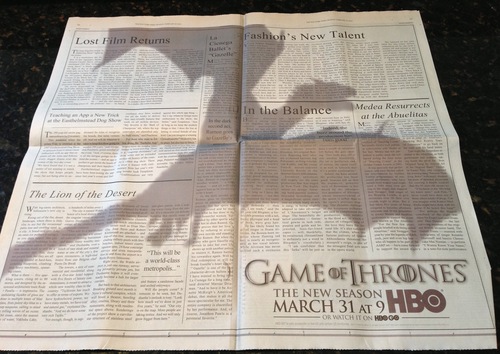 Unlike most of your favorite characters, print and outdoor advertising isn't dead in the realm of Westeros. "Game of Thrones" pulled a stunt to publicize its third season that was reminiscent of Orson Welles' "War of the Worlds" radio drama. The New York Times featured a full-page spread of mock articles with Drogon's ominous form casting a shadow on the paper. The articles were "Game of Thrones" specific, telling stories ranging from "The Lion of the Desert" to "Medea Resurrects at the Abuelitas." In addition to the newspaper spread, HBO's office in Los Angeles featured a similar gimmick. The side of the building featured a large dragon shadow, making it feel as if Drogon was flying over your shoulder. Talk about forcing people to have a double-take when looking at your advertisements.
2. Interactive elements are crucial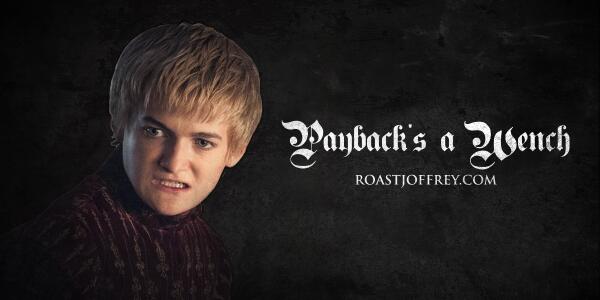 If you're not utilizing interactive content in your current marketing strategy, you need to introduce it—ASAP. Interactive content achieves four to five times more page views than static content and drives twice as many conversions. "Game of Thrones" rules its own Iron Throne when it comes to interactive content. Few brands are consistently utilizing innovative interactive content on their social channels. Before the fourth season, "Game of Thrones" hosted a social roast for everyone's favorite villain: King Joffrey. Twitter users roasted Westeros' most despised character using the #RoastJoffrey hashtag for over 48 hours. The campaign earned over 850 million impressions and a 367 percent increase in "Game of Thrones" mentions year over year. If those numbers didn't impress you, the return on its next interactive campaign for season five will leave a lasting impression. #CatchDrogon was created as a social media game on Twitter to drum up hype for the season premiere. Twitter users were encouraged to set bait via specific GIF tweets in order to lure a tweet containing Drogon to their feed. Users then had to retweet the tweet before it expired and Drogon "flew away." The campaign broke one billion impressions on premiere day and created more than 6.6 million interactions.
3. Use current events to your advantage

During the 2016 campaign season, "Game of Thrones" harnessed people's desire to escape from current politics. HBO built a digital campaign that created election videos for Cersei, Daenerys, Jon Snow and Littlefinger. After watching the videos, fans were prompted to vote for their preferred candidate. Fans could support their political candidate by offering pledges in terms of social shares or purchases from HBO's Amazon store. The total tally reached over 1.5 million ballots cast and the campaign was featured on various news websites.
4. Make visuals your centerpiece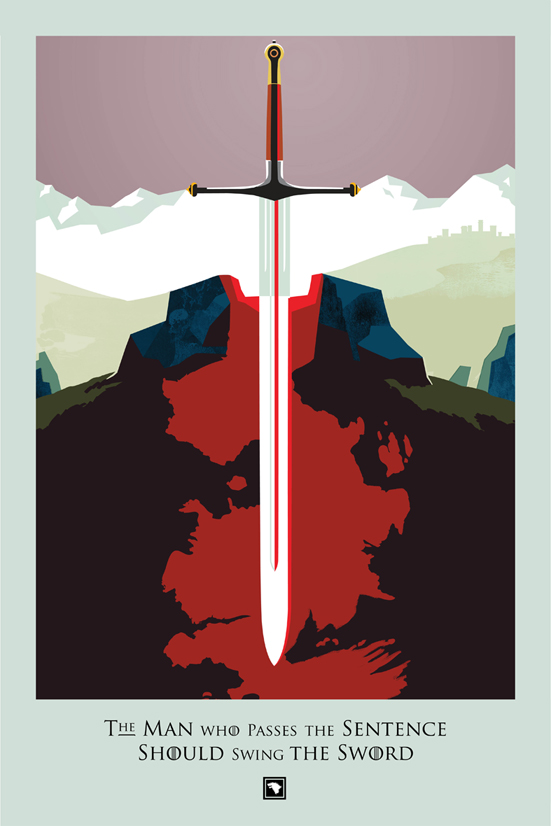 Since "Game of Thrones" is known for its cinematography, it isn't surprising that its advertisements are known for their visual aesthetic as well. During a 30-day countdown for the season four premiere, HBO featured 30 illustrations representing an iconic death from each episode. The illustrations were released one day at a time, keeping "Game of Thrones" at the forefront of its viewers' minds. Facebook posts with graphics see 2.3 times more engagement than posts without images and tweets with graphics receive 150 percent more retweets than tweets without images. Encourage your designers to channel their inner Daenerys and unleash the creative imagery.
In Westeros, there are no limits as to what the characters will do to grace the Iron Throne. It also seems that HBO has no limits regarding innovation in their digital campaigns. Hopefully you can use these "Game of Thrones" marketing lessons to serve as inspiration to drive cutting-edge advertising.
In the meantime, you can catch Penna Powers in our loft streaming the season seven premiere. Leave us a comment with your best prediction as to which one of our favorite characters will die first.