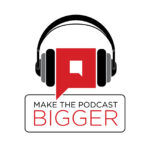 Welcome back to Season Two everybody! To kick things off, today we have a big roundtable discussion with the partners of Penna Powers! We are joined by Mike Brian, Dave Smith, Erico Bisquera, and Justin Smart to talk about the current state of the advertising industry, the history of the agency and how they stay inspired after so many years in the game. In our discussion, we cover some background of our guests and the environment from which the agency was born before contemplating the modern world of marketing and advertising. Our guests offer some great insights into similarities and differences in the field compared to previous eras and they share reasons why working at Penna Powers has been such a positive experience for them. We talk about conflict, structure, favorite campaigns and more. So, be sure to join us as we embark on a great new season with a fascinating episode!
Key Points From This Episode:
An introduction to the partners and their roles.
The evolution of marketing and advertising in Utah.
How media consumption has changed while the need for relevancy has remained.
Penna Powers' own development and approach to progress.
Looking forward to an ever faster developing field of advertising.
The partners' own personal journeys and career arcs.
The attraction of working at Penna Powers for our guests.
The partners share each other's strengths and contribution.
Conflict and its role in growing relationships and healthy practices.
The company structure and laying out the Penna Powers culture.
Challenges that currently face Penna Powers as an ad agency.
What makes coming into work every day remain is exciting.
Favorite current campaigns and interesting projects at Penna Powers.
Advice for young and hopeful professionals in the industry.
And much more!
 Tweetables:
"We can be much more targeted, we can use channels or mediums where client's customers are and we can speak with them and create content specifically for them." — @pennapowers [0:08:50] (Dave)
"In this day and age, everything you do has got to be integrated. From the start of your campaign to the end and you must be speaking with one voice." — @pennapowers  [0:14:05] (Dave)
"In our industry, it's adapt or die." — @pennapowers [0:14:24] (Mike)
"Seems like there's a feeling out there that's anti-advertising, going into the future you have to create content that people are interested in and not make it seem like you're selling them something." — @pennapowers [0:16:48] (Erico)
"Transparency and authenticity. Those are two big words that will continue to drive the communication marketing space for a long time." — @pennapowers [0:17:15] (Justin)
"Just one approach doesn't get it done when it comes to moving the needle in the public involvement space." — @pennapowers [0:24:43] (Justin)
"Conflict is good. Conflict makes us really think through the issue and the challenge at hand because different perspectives may shed a light on something you hadn't thought of or you hadn't considered." — @pennapowers [0:35:20] (Dave)
"The work we do matters… We sell ideas. We sell quality of life. We move people. To do better and be better and contribute to society." — @pennapowers [0:50:33] (Justin)
"Be ready to work hard and listen to other people's opinions… Don't always go into it trying to sell your idea because it can always be better. If somebody has input on it, don't automatically disregard it because they're a consumer also." — @pennapowers [0:57:57] (Erico)
Links Mentioned in Today's Episode:
Penna Powers — http://www.pennapowers.com/
Penna Powers on Twitter — https://twitter.com/pennapowers
Mike Brian – https://www.linkedin.com/in/michael-brian-4850152/
Dave Smith – https://www.linkedin.com/in/dave-smith-4066a112
Erico Bisquera — https://www.linkedin.com/in/erico-bisquera-8580a949
Justin Smart — https://www.linkedin.com/in/justin-smart-a5454116
NHL "You Can't Afford Not To" — https://www.youtube.com/
Harmons "Your Arena" — https://www.youtube.com/
TravelWise "Me Heroes" — https://www.youtube.com/
UCAIR "Real Stories" — https://www.youtube.com/