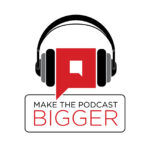 Today on the podcast we are joined by an old friend and mentor to our cohost Elyse Freeman! We are so lucky to have Jim Breitinger here. He is the Director of Marketing for the Natural History Museum of Utah and is here to talk to us about event marketing, digital developments in the field and his history in the game. We hear from Jim about his work background leading up to his current position at NHMU and he does a great job of tracing the recent changes that he has noticed in his profession. We discuss how NHMU works with an outside marketing agency and how this relationship functions before Jim gives us some great insider perspective on the events and exhibitions that take place at the museum. We also get into planning, challenges, partnerships, storytelling and more. For a great conversation, jam-packed with expertise and experience be sure to tune in!
Key Points From This Episode:
Jim's background, education and his work at the Natural History Museum of Utah.
The marketing transformations that Jim has witnessed during his career.
Working with an outside agency at NHMU.
The reasons Jim moved to Utah from Ohio after college.
A little about NMHU's chocolate and cheese festival.
Jim's favorite exhibits from the museum's rotation.
The planning of future exhibits and scheduling the calendar.
Some of the challenges of running a non-profit.
Utilizing community partnerships for the benefit of the museum.
Differences between product and event marketing.
Staying strategic through the rhythm of this kind of marketing job.
Jim's predictions for a future trend we will see take off soon.
The relationship between good marketing and great storytelling.
Characteristics that Jim looks for when partnering with an agency or hiring.
Mentoring and being mentored, in Jim's career.
Jim recalls a particular marketing fail.
Advice from Jim to young professionals in marketing.
Some of Jim's favorite podcasts, books and national parks!
And much more!
Tweetables:
"Some Natural History Museums people think of as kids' museums, that they cater to kids and certainly families are more likely to want to go, but our museum is really neat because there's something there for people of all ages." — @utahredrock2015 [0:14:33]
"From a strategic point of view, it's about picking the right events and timing things in such a way that if there's a lull during a certain time of year you can boost it by doing an event." — @utahredrock2015 [0:23:32]
"Our story is based on science, the science that we do, the science that we are showing people through our exhibits and it's just loaded with nuggets of great information that people want to have." — @utahredrock2015 [0:29:49]
"Having something that you create and that you put out on a regular and predictable basis, that's what you need to be doing. Not just popping up randomly here and there… Really planning it out more, having episodic content so you're continuing your story and delving into different areas."  — @utahredrock2015 [0:30:21]
"There are certain skill sets that it totally makes sense to have an agency as your partner." — @utahredrock2015 [0:35:59]
"Be willing to do what needs to be done. I had internships when was younger and I actually loved them." — @utahredrock2015 [0:46:31]
Links Mentioned in Today's Episode:
Penna Powers — http://www.pennapowers.com/
Jim Breitinger — https://nhmu.utah.edu/staff/jim-breitinger
Natural History Museum of Utah — https://nhmu.utah.edu
Stephen Covey — https://www.franklincovey.com/the-7-habits.html
Social Media Today — https://www.socialmediatoday.com/
S Town — https://stownpodcast.org/
New York Times The Daily — https://www.nytimes.com/2019/01/25/podcasts/the-daily/venezuela-nicolas-maduro-juan-guaido.html
The Art of Manliness — https://www.artofmanliness.com/
The Katie Couric Podcast— http://www.couricpodcast.com/
Dick Francis — https://www.bookseriesinorder.com/dick-francis/