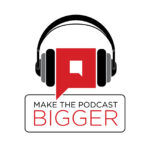 On this week's episode, we chat with Jason Alleger, Penna Powers alum and current manager of consumer insights and strategic planning for Traeger Pellet Grills. Jason is also an adjunct professor at Brigham Young University, where he teaches MBA courses on advanced analytics and insights. This week we pass the mics off to Vice President of Channel and Content Management Marc Stryker and Senior Digital Media Strategist Nicholas Giustino. We'll discuss the power of getting the right consumer insights, making sense of data overload and finding the signal in all of the noise. We also hear from Jason about how to keep your competitive advantage in a saturated market, understanding how brands become part of our identities and why a good team culture is paramount for company success. For an insightful episode, be sure to tune in.
Key Points From This Episode:
Jason's story, education and career background.
Why teaching others is a completely different application of your knowledge.
Understanding how to interpret and work with data.
Tools, software, and resources for analyzing consumer insights.
What the data has taught Jason about the marketing industry.
The role that branding plays in consumer identities.
Jason's favorite part of working at Traeger.
The Halo Top brand case study: cultural shift.
Pet food industry: setting the trends for our food.
The value of an MBA in the business world today.
A recount of Jason's experience working in the Vegas market.
Why the team culture is often more important than company culture.
And much more!
Tweetables:
"You have all this knowledge, but to put in a framework where you can teach other people and see them apply it in their lives and their academic learning is something totally different." — @jasonalleger [0:04:42]
"Working in data isn't just opening up spreadsheets and looking at numbers. Everything I do is paired also with consumer interaction. Trying to balance what you're seeing in the data versus what people are actually doing. If you go too hard on one side the equation, you won't find what you're looking for." — @jasonalleger [0:8:42]
"Companies that do marketing well, can ladder up to something greater than what their product usually offers." — @jasonalleger [0:16:39]
"Branding plays an important part in our identities." — @jasonalleger [0:20:24]
"The value of an MBA is very real if you're looking to switch careers and if you're looking just for something different." — @jasonalleger [0:29:46]
 Links Mentioned in Today's Episode:
Jason Alleger — https://www.linkedin.com/in/jasonalleger/
Jason on Twitter — https://twitter.com/jasonalleger
Traeger Pellet Grills — https://www.traegergrills.com/
Marc Stryker — https://www.linkedin.com/in/marcstryker/
LDS Business College — https://www.ldsbc.edu/
The Power of Moments — https://www.amazon.com/Power-Moments-Certain-Experiences-Extraordinary/dp/1501147765
Tableau — https://www.tableau.com/
Domo — https://www.domo.com/
Azure ML — https://studio.azureml.net/
Yeti — https://www.yeti.com
Skullcandy — https://www.skullcandy.com
Halo Top Ice Cream — https://halotop.com/
General Mills — https://www.generalmills.com/
How Will You Measure Your Life? — https://www.amazon.com/How-Will-Measure-Your-Life/dp/0062102419
Revisionist History — http://revisionisthistory.com/
David and Goliath — https://www.amazon.com/David-Goliath-Underdogs-Misfits-Battling/dp/0316204374
TED Radio Hour — https://www.npr.org/programs/ted-radio-hour/
Radiolab — https://www.wnycstudios.org/shows/radiolab
The Boys in the Boat — https://www.amazon.com/Boys-Boat-Americans-Berlin-Olympics/dp/0143125478