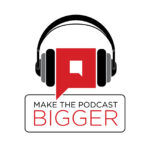 On this week's episode, we welcome Brian Rustad, senior account executive at Pandora. Pandora is a leading music and podcast discovery platform, providing a highly-personalized listening experience to approximately 70 million users each month. As the largest streaming music provider in the U.S., Pandora connects listeners with a personalized audio entertainment experience. We, along with the Vice President of Channel and Content Management Marc Stryker, discuss the various listening habits for individuals and the current trends in the digital audio media space. We also dive into why the audio message is still relevant in advertising today, how the smartphone has transformed listening consumption and how the decreased attention span of individuals has impacted the marketing industry today. Brian also shares more about Pandora's Music Genome Project and how they use data to personalize music consumption for their listeners. For an incredibly insightful conversation, be sure to tune in.
Key Points From This Episode:
Brain's background, childhood dreams and how he got into media sales.
Benefits of using the audio message in advertising: the science behind sound.
Using music to tap into the nostalgia of individuals and make a connection.
An audio bite example: drawing on sounds that catch our attention.
Listening trends: the transformation of listening consumption.
Shifting away from touch-screen towards voice command.
Adjusting to society's decreased attention span.
How to avoid becoming a jukebox: Music Genome Project.
Brian's transition from radio to digital media and streaming.
How Pandora differentiates themselves from other streaming providers.
Insights on listening habits and trends in the Utah market.
Creating an authentic relationship as a salesperson today.
Brian's most memorable encounter with a client.
The importance of storytelling in advertising and branding.
Number one tip for breaking into the media sales industry.
Advice to young advertising professionals who want to drive meaningful change.
Connected home devices and the fast growth of the industry.
Tweetables:
"It's really been said that data is the new oil of our current time." — Brian Rustad [0:02:03]
"Sound is able to grab our attention, no matter what's going on, if it's a personable and meaningful message." — Brian Rustad [0:06:20]
"Audio is really the most powerful storytelling device and it has been since the beginning of time." — Brian Rustad [0:07:30]
"The average American checks their smartphone over 80 times a day." — Brian Rustad [0:16:44]
"Google Home sold more than one device, from the end of October through the end of December, for every second in the day." — Brian Rustad [0:51:06]
Links Mentioned in Today's Episode: 
Brian Rustad — https://www.linkedin.com/in/brianrustad/
Pandora — https://www.pandora.com/
Marc Stryker — https://www.linkedin.com/in/marcstryker/
Music Genome Project — https://www.pandora.com/about/mgp
Spotify — https://www.spotify.com
Apple Music — https://www.apple.com/music/
LinkedIn Learning — https://www.linkedin.com/learning